MUSICÆ SCIENTIÆ
MUSICÆ SCIENTIÆ publishes empirical, theoretical and critical articles directed at increasing understanding of how music is perceived, represented and generated. Any systematic work within the domains of psychology, philosophy, aesthetics, music analysis, musicology, cognitive science, education, artificial intelligence, modelling and neuropsychology that advances that aim will be considered for publication.
MUSICÆ SCIENTIÆ is a trilingual journal (English, French, German) and the official organ of ESCOM, the European Society for the Cognitive Sciences of Music.
MUSICÆ SCIENTIÆ was founded by Irène Deliège and first appeared in spring 1997.
Editor in Chief: Reinhard Kopiez, Hochschule fur Musik, Theater und Medien, Hanover, Germany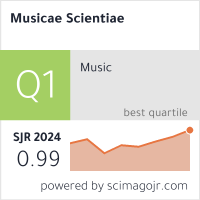 ISSN: 1029-8649, appears 4 times per year (March, June, September, December)
2017 Impact Factor: 1.45 (Source: Scimagojr.com)
2017 SCImago Journal Rank Music: 6/131 (SJR: 0.66)
2017 SCImago Journal Rank Experimental and Cognitive Psychology: 74/137
(Detailed statistcs for MUSICÆ SCIENTIÆ at SCImago)
MUSICÆ SCIENTIÆ gold open access through SAGE Choice: Authors may choose to turn their article into an open access publication by paying a publication fee.
News
Important links